Bio
I've had a love affair with Calligraphy since 1977, studying with some of the best teachers in the world.  Following completion of a certificate program in graphic art and design, I started a freelance calligraphy and design business, and have worked as a Calligrapher for the County of Los Angeles.  I have exhibited in the Brand Library, The Los Angeles Folk Art Museum and nationwide.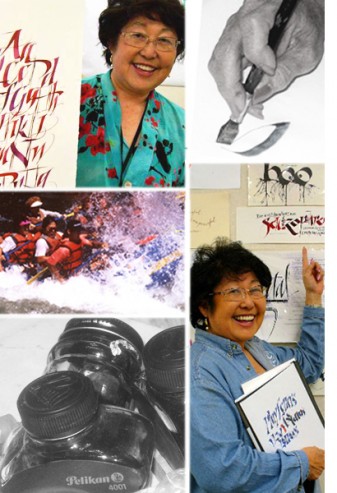 My teaching career began at Brandes Art Institute in 1983 and I have taught ongoing classes and workshops locally for the Los Angeles Society for Calligraphy, Hughes Aircraft, RAND Corporation, Viva Gallery, and nationally at Calligraphy conferences and for guilds across the country.
ROME: HBO TV Series
JOBS Movie (Ashton Kutcher)
Luther Vandross (singer)
The Society of Operating Cameramen
RAND Corporation
Levi Strauss International (logo)
Jules Stein Eye Institute, UCLA
Jonsson Cancer Center, UCLA
Occidental Petroleum Company
I am also President of the Society for Calligraphy of Los Angeles, where I have found much satisfaction and some of my best friends. We have visiting lecturers and teachers from all over the world.
I thought I had it good when I found Calligraphy, but I found my true passion when I saw the light go on in a student's eyes. I receive continuing support and confidence from my loving husband, Hideo and wonderful son, Christopher. Life is good.